We are a trained group
of teachers with passion to educate

We, at Divine Santo Nino International School with a vision to set benchmark in quality education through different learning and teaching methodology and creating and learning teaching environment.

We create a platform for young minds to explore their intellectual potential and nurture in them a positive approach in every field. We, make efforts to give special attention to their dreams, capabilities and aspire them to be ready for a better future.


Founder
With immense pride and great pleasure, I welcome you to our school "Divine Santo Nino International School." Our Motto – "Ignite Curious Mind, As Every Student Matters" is a pathway to fulfilling dreams for a Sparkling Future". All of us do not have equal talent, but all of us have an equal opportunity to develop our talent." This thought of Dr. A.P.J. Abdul Kalam sir sums-up the vision and mission of Divine Santo Nino International School. We provide skill based education from KG to XII. Our Vision has always been to be the front runner and provide impeccable quality in all forms of education. Our Objective is not only to ensure education but understanding of the reasons, methodology facts and figures of various concepts which can be inculcated in our day to day life.
We shoulder the responsibility to cater the best quality education at National as well as Global level. We aspire to inspire our students to grow into the ideal role model for the future generation while becoming responsible citizens of the country. We believe in a perfect balance between the scholastic and co-scholastic areas bringing about excellence in education. At Divine Santo Nino International School we motivate our students to realise their dreams no matter how challenging it is.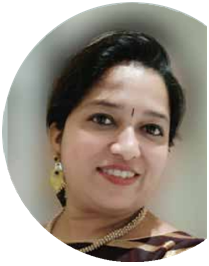 Co-Founder
I believe that Education has no limit. It transforms an individual into a unique personality. Education is not a preparation for exams. It is a preparation for life itself. Our school plays an immense role in creating an environment to nuture, shape and channelise children in the right direction.
Fostering academic excellence through inculcating international curriculum emphasizing to create a global student and compete oneself for the future challenges. For realising the vision of the school we stand committed to provide outstanding guidance, leadership, innovative and allround education. We work on the pillars of involvement, integrity, identity, learning, relationships and connections. I consider and treat each child as an individual and ensure that the child is provided a structured learning program as per their individual ability.
Vision

Groom Students To Acquire Value Based Learning And Nurturing Them With Skills To Be Future Global Leaders Through Holistic Development


Motto

Ignite Curious Minds As Every Student Matters


Mission

To provide affordable and quality education and to groom the citizens of tomorrow in all forms of Education